AND WE KNOW MORE ABOUT BUILDING STOCK PONTIAC ENGINES THAN ANYONE.


J.B. also inspected the head for sizes.
J.B. was dead serious into checking over the 350.
He came to Bruce at the end of the day and said, "This is making
power like one of your cast iron head 455's, and Marlon Davis
(the story's writer,) is going to be all over me
when I give him these numbers. I need to know."
Bruce quickly offered to pull the head and let John inspect the vital numbers.
John being the pragmatic scientist type obliged to measure everything. (for his own peace of mind.)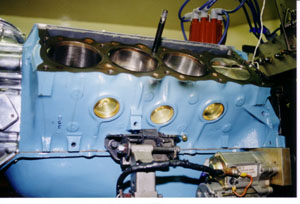 Look closely - it's a 350 block.
How many have you thrown away?
Save what's left.
Have Rock 'N' Roll build it for you or buy the parts and build it yourself.
On this day Comp Cams employee Rick Gayhart (in
charge of graphics, cataloge,etc.,) just happened by.
Yes, Memphis Tennesee is a long way from So.Cal., but
Ricks wife was in town on business and Rick thought he'd drive out to Westech and
meet the staff. Little did he know there was a dyno session going on.
Rick just happens to own a 79 T/A with a fresh 403
Olds. After seeing what the 350 made he was more
than impressed. He was flippin' out.
Did you see his Comp Cams ad he made for us?
Click on Comp Cams!
Rick took some pics back home to show the gang.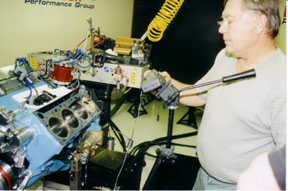 J.B. taking pictures for Car Craft
J.B. observes the quench area.
Westech patriarch Rick Stoner was happy for Bruce.
Bruce's 350 topped Comp Cams Chevy test mule
350 known around Westech as "The Gladiator."
And that, was very cool.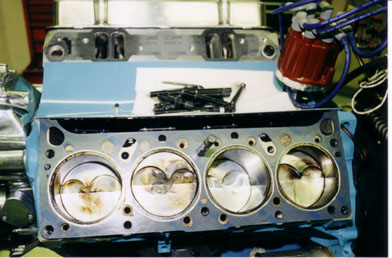 Ok Eagle eye. What do you see?
With an engine this efficient there's a lot to see.
(If you know what you're looking at.)
E-mail Bruce if you want to talk.
Look what's lost via the small bore when using the stock head gasket.

Bruce is thinking about building a 350 to run in NHRA Super Stock,
Wouldn't that be something to go 10.30's or better with a real
Pontiac 350 and cast iron heads? It would fit into GT/HA and
weigh 3127 lbs. There are some 400 inch Pontiac engines that also
fit into GT/HA and have already run as fast as 10.25. Hmmmm
Why lose 50 cubic inches.....
Could more RPM capable 350 be used to achieve a lower ET?
Hmmmm....