WE MAKE SERIOUS PONTIAC
HORSEPOWER
AND WE KNOW MORE ABOUT BUILDING STOCK PONTIAC ENGINES THAN ANYONE.

Chris hits the Hot loop Power tour Tour and kicks
ass in Houston on the chassis dyno. We tried to upload the pics here but you'll just
have to go to Hot Rods site to see them. The writer calls Chris's low compression 400
a "stroker 455." From the power it made, 380 rear wheel, it probably looked like a 455 to him.
Got 'em again. Remember our 540 hp 350?
Chris - send us some tour pics!!
Free engine!

Hot Rod magazine decides to jump into the "we're really cool too" gang by giving away
four engines. If you're not familiar with their giveaway it was billed as "Build your dream engine."
You tell them what you want, and if you're picked they'll pay to have it built, and give it to you.
Well, guess what? One of our biggest fans, good friend Chris Williams
WON THAT FREE ENGINE!
Check out this notification: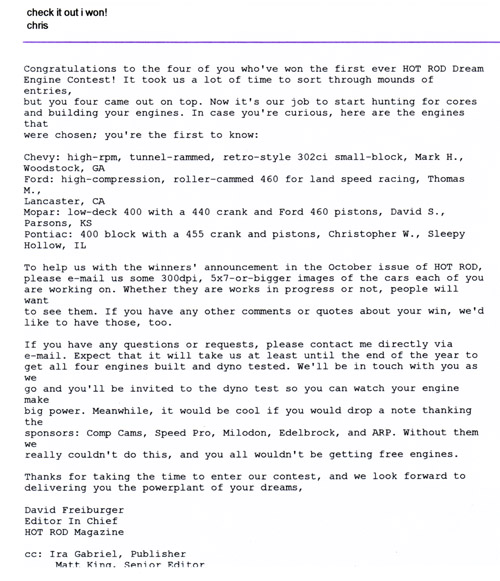 Chris runs this T/A already loaded with our parts.
It's a all stock weight car with a 8.2 Cr. 400 engine.
Uses our ported Edelbrock heads and small hydraulic roller cam.
3:70 gear. What does it run? Chris wanted a low twelve second car.
He said we dissapointed him.
Well it's JUST a low compression
heavy weight street machine. How fast could it be?
How's 11.70's grab ya?
Chris has been making believers out of many, many non-believers,
including a few guys that bought our competitors "stroker kits."
Buy from us and get our tuning help. Chris has been driving this combo
for FOUR years. Every weekend. And he was joking when he said
he didn't get what he wanted. He would have been happy
with low twelves. Sorry, our 400's can't run that slow.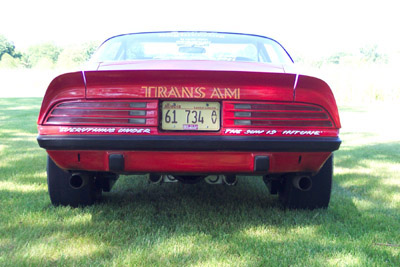 "Everything under the Sun is INTUNE"
Nice, clean, and very fast with Bruce's heads and cam.
We'll keep you posted on the dream engine's progress.
Oh yeah, thanks Hot Rod.
Update - engine was such a pooch upon their first try - that Hot Rod had my ex-employee port the heads
to up the HP. Chris reported 10/28/04 that it finally made 575 hp. A far cry from
our 661 pump gas 455, but hey, it was free. And a magazine was involved. That makes it cooler, huh.
Alas; there is a lesson - only RRE makes the best Pontiac power.
You shouldn't settle for second, third, or fourth best.