WE MAKE SERIOUS PONTIAC HORSEPOWER

AND WE KNOW MORE ABOUT BUILDING STOCK PONTIAC ENGINES THAN ANYONE.


Remember when these cars raced HEADS-UP?
(It was in 1966.)
Whenever possible we like to race heads-up. Everyone loves heads-up racing. That's what real
Drag Racing is about. Why don't you see more of it in the Pontiac world? Too many chickens.
That's our guess. I have lobbied for years, and as many of you know, I
introduced a heads-up series at my previous national events - but because of broken promises of
magazine coverage (Tom Demauro) - major league sponsors went away. Both Pontiac magazines have zero interest in
any type of fair heads-up racing. One of them simply has no interest or ability - (lazy) - the other is wholly self serving -
wanting only their friends to look good - and they do it with incredible dumbing-down B.S. hype.
------------------
It has become evident, for YEARS, I was the only one that really cared to establish a fair head-up series.
But without the proper funding I couldn't do it alone.
So that leaves us with? Nothing. Bracket "racing." Ho hum.
I worked on Arnie Beswick to initiate a
heads-up set of classes at Arnies RT 66 race, but Arnie's idea of a fair heads-up race
turned out to be a 400" engine races a 600" engine -a 3500 lb car races a 2000 lb car.
Arnie's NOT a good promoter and his series failed after just three years.
Only five or six people have decent big cubic inch fast cars.
That leaves all of the standard engine size Pontiacs (the majority of racers,) without an opportunity to have
heads-up fun. If anyone wants help establishing FAIR heads-up classes, I have good ideas
and will offer all of the help I can.
---------
For fun we've even raced people we knew were a half a second quicker than us
just so they'd have some fun telling their friends, "I beat those RRE guys! "
You always get to come back next week. It's just a drag race folks.
----------
Fact is, grudge racing for fun is supposed remain just that. Fun. I
keep it all in perspective. If you're a racer and you're fibbing about using nitrous, or have
some unfair advantage, what have you proved? That you're a good B.S.'r?
Good for you.
You do not achieve real respect that way.
I race to prove mechanical superiority.
That's what makes the National Hot Rod Association a great place to race - It has the most level playing field in existence.
ACCOUNTABILITY - Something all other advertising Pontiac engine builders lack.)
2002 was a fun year for me and my janitor. We towed my Ventura all of the
way from southern California to West Virginia for the Pontiac-Oakland
Clubs (POCI) National convention to show off and have fun.
And to race at the Jim Wangers owned / Pontiac Enthusiast magazine sponsored drag races.
The Ventura had the 350 in it.
Pictured is Brian Cook and his sweeeeeet '62 Catalina. It's a
stock weight (3600 lbs.) car with a 455. It runs 10.40's. Brian raced us. Killed us!
Mike Ford in his little yellow 455 Pontiac ran us during eliminations.
Mike had missed the call to the lanes for eliminations - so he went to the tower to
beg for a run. The class had already run. But when I heard that Mike had
missed the call, even tho I had already earned a third place finish, I decided to run Mike anyway.
Why not be a sportsman about it?
Mike had driven a long way too, and as I
says, "If you aren't having fun go home."
Here's the ET slip from the race. It turned out to
be Mikes best pass all day. The Ventura had four 6.70 passes in a row. It was an eighth mile race track.
Mike was a little, shall we say, sleepy? Hey Mike! You were great. We're car #7421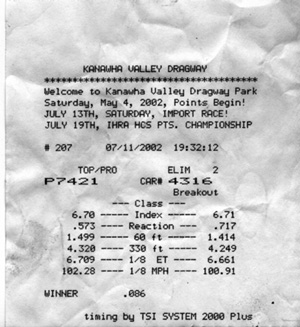 Another 6.70. The Ventura was super consistent. (Driver wasn't!)
Third place in Super Pro with a Street car was pretty impressive.
Lots of spectators came over to see the 350, and many asked if we were going to run the the Pontiac Enthusiast GeeTO Tiger replica.
We said we'd love to, and sent the spectators over to ask them. Wouldn't you race our 350 with a big JBP stroker (4.250) @ 467 JBP cubic inches like theirs?
We waited and waited for a reply.
While we were waiting, magically, Brian Cook won JIM WANGERS special promotional race within a race, "Bracket race Dave Duh in the Gee-too-Slow Tiger"drawing.
Brian uses Bruce's ported Edelbrocks and Bruces custom Comp roller cam.
He had a bad torque converter, (seriously, it broke completely on the next pass,)
But gee, when you're competition is THAT slow for a BIG bad (stupid) JPBDC stroker, it's easy! Right? (jab, jab..hahaha)
These guys deserve a good jab as their sorry style of excuse making is laughable.
Brian beat the anti-science GTO "Stee-roker" handily.
So, we're back to a bunch of people asking the Gee Slow Tiger crew when they were going to race our little 350 engine. GET this....
Dave "special ed" Anderson was ordered to announce over the P.A. "We're not here to race anyone heads-up,"
We're just here to show off our engine products under the hood."
And THAT folks is a direct quote.
Everyone got a great laugh outa that. The spectators knew what was going on.
Bunch of Wangers bred Chickens. byuck, byuck, byuck!!
---------
Imagine this: It's 1966 and you're at an A&W on Woodward Ave. You're driving Ace Wilsons specially prepped G-TOO GTO Tigerrrr.
You're sitting there with the hood up, looking at all the boys. A potential racer comes up to nose around about getting a a race and the GTO driver says, "Oh, I'm not here to race,
I'm just showing off my chrome tri-power lids." (Think you'd get laughed outa town? You bet.)
Of course, THAT never happened back then. Today? Forget it. It's nothing but Wangers bully pulpiting now.
--------------
Well guess what, I'm proud of what's under our hood - so let's see if your pride can whip ours.
Even Hot Rod magazine lost patience with their promotion of the GeeSlow replica. Why?
The excuses got REAL old when their killer "stroker" couldn't run the day Hot Rod showed up to shoot pictures.
Click HERE to see an excerpt from that story.
---------------
Anyway - back to Virginia. Their ET? (see Et slip below.)
Brian Cooks car # is 1962
You should have heard the spectators cheer.
The Wangers crew, which included that dumbass PAUL ZAZARINE, having treated us with unbelievable disrespect,
knew the cheers were very gratifying for us.
Wow, an unintentioned grudge race turned out to be the highlight of the day.
Do you think someone could learn a lesson here?
About having FUN, drag racing?
What a concept.
Sponsors like Jim Wangers Pontiac Enthusiast in West Virginia - when in control of an event, is embarrasing to all Pontiac'rs in attendance.
They refused to race the 350
with thier stroker engine that had a full 1/2" more stroke.
So I decided to shoe polish a message to the chumps.
Spectators loved the message too. Guess what these chumps can't promote? - real drag racing fun.
(This picture looks weird as it was taken when I was turning left out of the staging lanes)