WWW.PontiacEngines.COM
WE MAKE SERIOUS PONTIAC HORSEPOWER

AND WE KNOW MORE ABOUT BUILDING STOCK PONTIAC ENGINES THAN ANYONE.


NO LONGER AVAILABLE HERE- BOLAWS IN fLORIDA OWNS THEM NOW.
Please allow me to introduce you to your new friend, Louie Hammel. Louie used to run the dynos at Edelbrock for most
of the 1980's. He was struck with lukemia and has spent the last 16 years recovering as well as one can. During this time he
has developed a replacement metering block for Holley and Demon carbs that's not yet on the market. It will revolutionize how
carb tuning is performed. It's very clever. Those of you that really know me know
I don't bullshit about engine and power developments.
However, Louie has allowed me to share this chart, that oddly enough, neither Holley or Demon has ever published.
The Grey line is the white cam, which obviously wouldn't show up on white paper.
Sadly Louie has passed/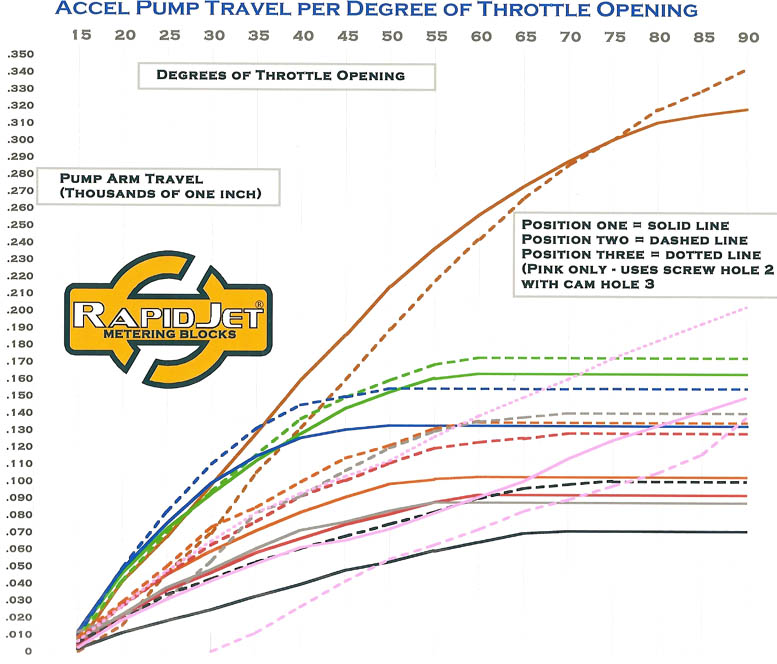 If you happen to be in the dark about what this is, it shows you the duration and lift of the accelerator pump cam,
and where in the accelerator pedal travel the cam lift and duration is happening. Great tuning device for street cars, road racers, roundy round racers,
any type of racing that may require fine tuning of the pump shot.

Drag cars can benefit from this depending on the way you leave the line. Foot braking? tight converter?
Adjusting the pump shot correctly can be the difference from having a super crisp holeshot, or blah.......hic....any day now.
This is the wheel Louie made to assist making the chart. Feel free to shoot these around the 'net. There's no doubt where you saw the name,
RapidJet!