WE MAKE SERIOUS PONTIAC
HORSEPOWER
AND WE KNOW MORE ABOUT BUILDING STOCK PONTIAC ENGINES THAN ANYONE.

Milestone - 3000 rpm
On 12/22/05 I dyno'd another 455 with my prepared Edelbrocks, just like the ones you can buy for $3200 dollars.
Here's a picture right off the dyno screen of an uncorrected column, which by the way, ALL of the braggarts use.
The difference is: I tell you up front exactly what I'm showing you.
This engine belongs to Larry Oilund. He requested a strong looooooow rpm daily driver
for his '65 Tempet. Ya shoulda seen the grin on his face when he watched these pulls.
The first five people to guess the intake duration at .050 of this cam get to be smug.
What I meant to say is you win a new RRE T-shirt. "I won Indy!"
Ok, now look at the picture very carefully - the RPM is on the left, the torque is the first column next to the RPM.
Horsepower is to the right of the torque.
Now you naysayers/computer keyboard racers & hex-pert critics go find a Pontiac engine builder that makes torque like THIS.
The rest of you may say in unison; "Nice!"
455 crank in a 400 block - 4.185 bore - 4.210 stock stroke - 6.625 stock rod length.
1.66 diameter exhaust valve. 750 Speed Demon. Jet size...oh , hahaha, not!
Correct these numbers to a 90 degree day @ 29.92 baro and you're STILL flippin' out.
On the pull after this we went to 2800 rpm start, and it still made 600 lbs. ft. at 3000 rpm.
My poor competitors web site dyno sheets for their pump gas engines cannot hit 600 lbs. ft. until 4700 rpm.
Ultimate engine efficiency is mine. (Quicker E.T. is yours.)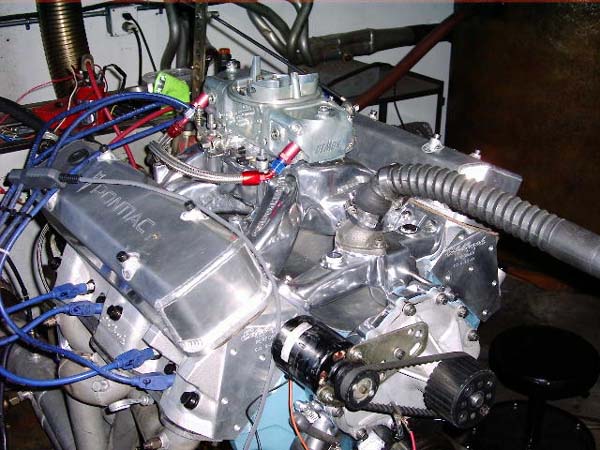 Email from the bottom of the front page.