WE MAKE SERIOUS PONTIAC HORSEPOWER

AND WE KNOW MORE ABOUT BUILDING STOCK PONTIAC ENGINES THAN ANYONE.

Not Worthy?
Try me......
According to Primedia/Popular Hot Rodding writer Rod Shorts article
your Pontiac engine is not worthy of any bracket race competition.
What do you think?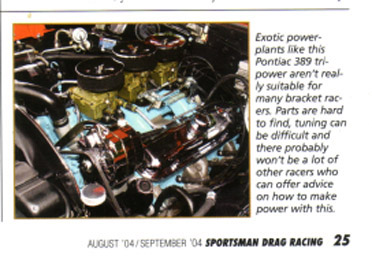 "Tuning can be difficult" Why? Surely in the last 30 years some smart magazine
writer has written a story on how to tune a lowly old Pontiac?
"Probably not a lot of other racers who can offer advice"
Really? Besides a zillion winning Pontiac bracket racers,
How about the owner of the current quickest GT/DA in the country,
thumping all of the competition, and oh nothing......
just the owner of the quickest and fastest "exoctic" NHRA Super Stock Pontiac
in HISTORY!
Yeah, I'm here to help you folks.
Parts are not hard to find.
Help is not hard to find.
Just Email me at Pontiac4@mindspring.com
And as we all know, in a bracket race, our Pontiacs can kick anyone's ass, anywhere, anytime.