WE MAKE SERIOUS PONTIAC HORSEPOWER

AND WE KNOW MORE ABOUT BUILDING STOCK PONTIAC ENGINES THAN ANYONE.

Pauls latest winners circle picture. Paul has now won NHRA events over the last FIVE decades.
And you? (me too.) The word "wow" is appropriate here. Paul gets a cool $100 clams from RRE.
Pauls Dilcher wins another Divisonal race 6/11/06 - Paul has won races in each of the last five decades.
Wanna learn about NHRA Stock racing? Listen when he talks.
(If you ever get lucky enough to talk with him.) Nice guy for sure.
Paul Dilcher is a Stock Eliminator racer and has been for decades. He was pitted next to us at
Pomona, so it was natural that we'd end up talking to him. License plate
said New York and he had a Division One number on his car which means the
northeastern U.S. I thought, man, that's a dedicated guy driving all of the way to California to race.
But it was much simplier than that. Who wants to be in New York at this time of the year? Brrrrr!
Paul runs a '77 400 6X head combo - and might be moving into a lower hp '78 400 combo
that will allow him to lighten the car 35 lbs. In J/SA form, which it was at Pomona the car
has gone 11.50's. Not bad for a 185 hp 3500+ Stocker eh? .390 lift cam. Stock intake, heads and carb.
Paul's no stranger to winning either. He won his first title at the old Ontario Speedway
driving a '55 Chevy in Stock. And just a couple of years ago he won
the IHRA Nat's event in Canada.
Paul will be running the RRE colors and take advantage of my limited assistance.
$Money to win or runner up at any NHRA Divisional or National event.
And parts at near cost. Not just anyone can get this deal. You need to impress me
as a serious racer - and someone that doesn't back out on their word. A person that will communicate
positive feedback for Rock 'N' Roll Engineering.
Plus you need to be a NHRA Stock or Super Stock racer.
Others considered - but must have a winning track record. No beggers/dreamers.
UPDATE 2/15/5 - Paul wins a division meet in 2004 and collects his $100 clams from me.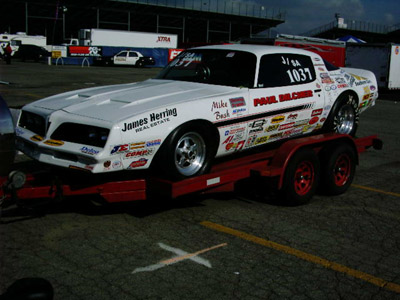 We both left Pomona earlier than we wanted.......
That's why they all it DRAG racing.