WE MAKE SERIOUS PONTIAC HORSEPOWER

AND WE KNOW MORE ABOUT BUILDING STOCK PONTIAC ENGINES THAN ANYONE.


Who??? Who had the quickest DOOR CAR before the Chinese "stroker" boys showed up?
Look at the date on the ET slip - 2003!
7.96 at 169 mph
Congratulations Roger Moore! (From Chelmsford, Essex, England)
THE FIRST 400" IN THE SEVENS.
Stock crank - 3.750 stroke.
No blower. No Turbo.
Naturally aspirated and Nitrous
! On Unleaded 98 octane no less !
1966 Triumph Herald
ET slips at the bottom of the page.
Pictures courtesy of EuroDragster.com
For those poor souls that have been listening to my competition who DO NOT produce
numbers like these, check out these stats then eat your heart out.
400 block. Two bolt mains. Stock 400 crank. Stock rod length.
Been together for five years.
Our cnc ported 87cc Edelbrock heads - $3200 dollars.
K-motion springs $260 -- 1.5 Harland sharps. $360
ARP head stud kits $130. RRE designed JE pistons. $885. Crower steel rods. $1200
Total seal rings - ductile iron top rings. $220
True doulble roller timing chain. $95
My profiled solid roller Comp cam and lifters $975
Super Balancer - $235. IMI mini starter - $195
Fogger system - $845. Plate system has NOT been used yet!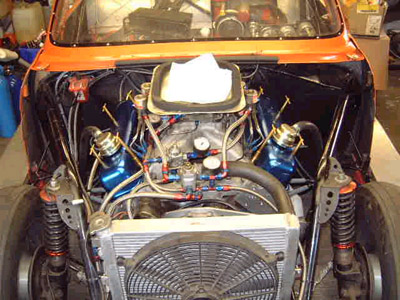 Holley 850 - No vacuum pump - yet. Means there's lots more left in it.
Looks better than the new GTO.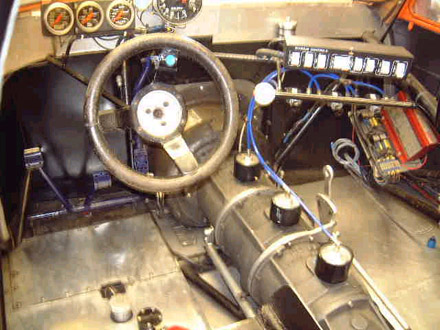 Uses a Ram twin disc 10" - an Olds/Pontiac third member with 4:11 gears and 32 x 14's.
All Strange components. Runs on 98 octane with octane boost
to bring it to approx. a 100 rating. Leaves at 4100 rpm. Shifts at 6100 rpm.
400 block. Two bolt mains. Stock 400 crank. Stock rod length. Careful tuning.
How much money have you wasted on "long-rod" Chevy stroke parts?
Before you buy call me to spend your money right and get a combination that performs.