WE MAKE SERIOUS PONTIAC HORSEPOWER

AND WE KNOW MORE ABOUT BUILDING STOCK PONTIAC ENGINES THAN ANYONE.

Testify. Got another witness.
Todd MaChad who owns owns this great looking 'bird moved from Ohio to California last year.
I had built his engine over seven years ago and importantly it has never leaked a drop of oil.
It's a basically stock 400" with one of my cams and a 6 speed that Todd beats the hell out of.
In fact, after he got here and called me to say hi, and that he was looking for someone to replace his tranny.
Seems that Todd drives his car so much and so hard that he's gone thru THREE six speed
trannies. Not being able to find anyone to work on his car I turned him onto my neighbor in
our complex, Dirt Bag Racing. They specialize in general and not so general repairs.
They do our R&R's. (Remove and Replace Engines)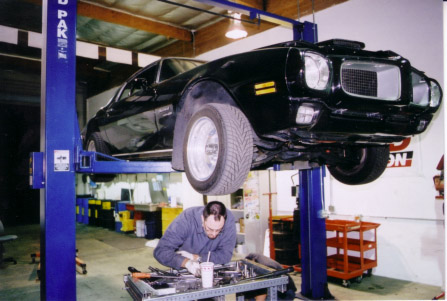 That's Dirt Bag Matt getting ready to install a new trans and a McLeod blow proof bellhousing.
Proud owner Todd.
The engine is flat impressive, as Todd will gladly show you. He road races it. He auto courses it.
He drag races it. And has driven it off and on as a daily driver for over seven years. That, is a pile of hard abuse.
A major point I want to make, before Fel-Pro changed their rear main seals to the absolute worthless junk they are today
it WAS possible to build a Pontiac that didn't leak from the rear main. Of course I've been preaching that for
some 15 odd years. Built how many engines in that time? Hundreds. Never had a problem until the
composition and size of the rope seals were changed for the worse. When Todd brought his car over
I wanted to see how the seal was fairing. Here's a picture of Todds seal area.
No one has showed a proper way to install a rope seal. I have it laid out
for my book - now the seals are all junk and you must use a neoprene seal.
This engine been thrashed hard - no leak. How much has it been driven? Jason at Dirt Bag discovered
Todd's entire clutch assembly from the pedal to the crossover arm was flat wore out.
Here's the inside of the bellhousing just as it came off the car. No wipe marks.
Beefed up rear, frame connectors. Flowmasters make great power.
DB Matt installing the new bellhousing.
Gene at DirtBag aligned the bellhousing and ended Todds tranny problems.
Todd's baby will be back on the road soon. Look for him haulin' arse around So.Cal. Say hi!
Update 7/4/05 - Todd blew a head gasket - ouch - upon looking over his engine it was apparent that
the California 91 octane wasn't getting the job done. Being built eight years ago for 94 or 93 octane in Ohio where
Todd used to live, (he moved to Ca.) the continued use of Ca. 91 octane and Ca. heat took it's toll. A head gasket blew between cylinders and Todd
continued to drive it. Long enough for the intense heat from pure oxygen bleeding over from the next cylinder fatigued the piston top
and caused it to collapse. Meeting the engines octane requirement is VERY important.
----UPDATE---
11/16/05
Well. Todd's fine little Pontiac finally got torched. I designed it to run on 93 octane, which was available in Ohio in 1997 when Todd got the engine.
But four years ago Todd moved to California where the highest octane is 91. And there's the occasional 87 octane that snuck in there
cause, well, "It'll be ok, right?" No. Not alright. A head gasket finally gave up the ghost while flying down one of Ca. finest freeways.
And unfortunately when you're pouring raw air without fuel into a combustion chamber the piston top tends to get warmer than usual,
and collapses. Todd was shown what happened and has decided to have his RA 3 engine turned into a "stee-roker"
(Not by me) Today I saw the new engine, with it's Chinese intake on top......oh my.....Get out the little violin! Good luck Todd.