Pontiac Racing Events Calender
Done......too much work.
NOTICE ~ ~ This page is old news. I just left it up to show some of the fun times we had.
Cut and paste the URL below to see the results form the 10th annual Trans Am Nationals Drag Race:
http://www.pontiacregistry.com/members/online_magazine.php?view=2&article=96&page=1
2006 event is coming. 8/23/06
Great prizes - lots of fun racing for everyone.
Gift certificates for: Comp Cams cams, Ram Air Restorations X-pipe, and oh, nothing...just a set of Pontiac Edelbrock heads!
$35.00 dollar entry. All tech card holders/participants eligable for prizes.
UPDATE 7/26/05 - F-body club of Dayton is going to host two special classes - HEADS-UP ! (yippie!) and a girls bracket class.
The HEADS-UP class buy-in will be paid to Tom Ritchie after you pay the regular entry fee at the gate. 100% payback. Now THAT'S fun.
Check these folks out. Nice site and helpful bunch of racers.
www.DaytonFbody.org
The same regular three classes will be in place. P1 - all T/A and Firebirds.
P2 - all other Pontiacs. P3 - Super fast Pontiacs - all electronics, run what ya brung.
As always, NHRA safety rules in effect. If you don't know - ask me or get a rule book before you go to tech.
---
Saturday, August 28th, 2004 -

Comp Cams and Barry Grant present:

a $9000 engine giveaway!

Click here for pics of 2004 results

Click on underlined sentences to read the various assembly components. And don't

forget to scroll all of the way down thispage too. Many engine parts pictures.

Crank, rods, rings.......ca-lick here

Its the 8th annual already. Can you believe it? So read up and tell your friends. This year the Grand Prize

is a complete running 400" engine. That's right! I will also give away LOADS of Comp Cams cams and other

very cool stuff - as always. Entry will be $45.00 for car and driver. $10 for Spectators. All you need

is a tech card to be entered in the drawing, which you can only buy the day of the race.

I'm building an ET beast. Elapsed Time. How do you ET quicker?

You begin by lightening everything you can, and that means

rotating parts in the engine. The lighter the parts you can hang on the crank,

the quicker the engine will rev to it's useful, highest, potential.

I used to wonder what to do with my recent 400 Super Stock pistons.....
What other parts are going into the Beast? Keep scrolling down...
If we have a good turn out this year - next year maybe I'll bring a 428? 455? A 450 hp 326?
What do we consider a good turnout? A minimum of 125 entries.
What's a Dykes Top Ring? A super sealer that last a long, long time.
More detailed answers to questions like these
will be in my book. The one that needs finshed now! Get a pen, write this down......
What heads? Rods? Race gas? Pump Gas?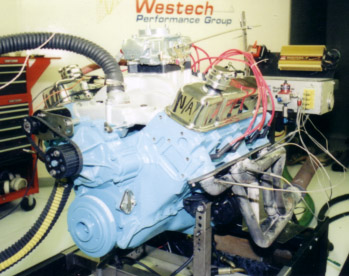 Hmmmmm. Might look like this one eh?
Yes. It will. Because,......
I've added a Speed Demon 850 yeah!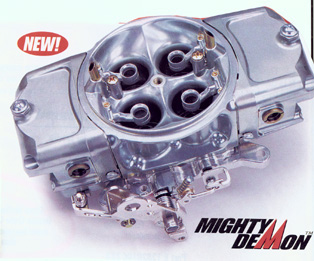 COMP CAMS comes aboard. I'll be using a custom solid lifter flat tappet Thumpin'! profile.
We'll be using their full roller rockers, pushrods, timing chain and the latest solid lifters made especially
for Pontiacs. Man,....somebody is going to get a nasty mutha. Oh yeah, I started working on the heads tonight. (?)
To use a worn out phrase but still worthy - Stay Tuned.
2003 results page. Click here to see.