OLD NEWS BUT FUN TO SHOW WHAT I USD TO DO FOR MY PONTIAC PEOPLE. FUN!
WE MAKE SERIOUS PONTIAC HORSEPOWER

AND WE KNOW MORE ABOUT BUILDING STOCK PONTIAC ENGINES THAN ANYONE.

The new forged CAT rod modified with a custom bushing.
Pin end was also narrowed a 1/4" to fit the custom Super Stock light weight piston.
This ain't no cheap pile 'o' parts. This engine will rev quick - which is what makin' ET is all about.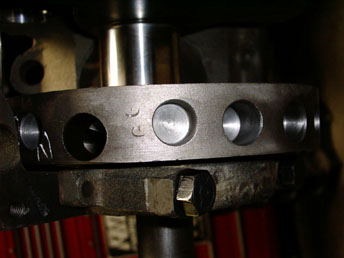 Lookit all of those holes. Think this bob weight ain't light?
Somebody's going to get one cool engine.
Anyone can enter. Buy a tech card for your Chevy truck, we don't care.
Although you won't be racing your Chevy truck at our race, you can still buy a tech card.
Just fill it in - Chevy/Pontiac! Whatever. Rent a car! Don't miss a chance to win.
We modified the rods for pin oiling.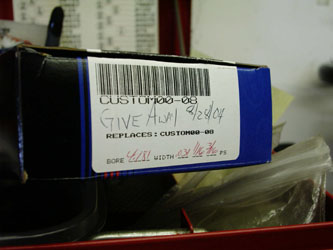 I'm keeping all of the part numbers to go with the winner.
Custom 00-00 4.181, .031 Dykes, 1/16th, 3/16ths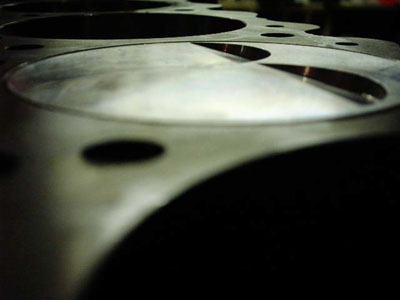 Zero decked this puppy too.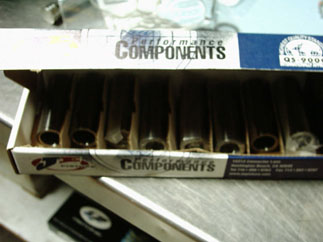 2-1/2" x .980 Nice....
Honed with a torque plate.
It's Saturday night Aug 14th. I've got just a few days to finish the engine.
The next time you see it might just be at Kil-Kare Raceway.
I don't know what intake to use yet......hmm....any ideas?