WE MAKE SERIOUS PONTIAC HORSEPOWER

AND WE KNOW MORE ABOUT BUILDING STOCK PONTIAC ENGINES THAN ANYONE.


Rarest factory built 1965 GTO race car.
Here's the story of the last known custom ordered factory built GTO drag car.
I sold this car because Arnie Beswick was associated with it and I want nothing to do with
that two face jack off.
Arnie is a predator of the worst kind.
So, the car is cool. Enjoy it when you see it. It's restored now and is in Illinois.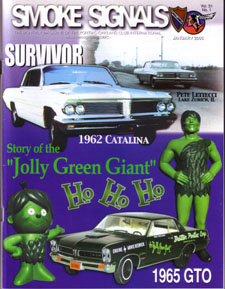 Thanks to editor Larry Kummer for a great layout in Smoke Signals - Jan. 03 issue.
"From the valley of the Jolly - Ho, Ho, Ho, Green Giant!"
The best Pontiac engine you'll ever own is wating here - 1-909-844-1081