WE MAKE SERIOUS PONTIAC HORSEPOWER

AND WE KNOW MORE ABOUT BUILDING STOCK PONTIAC ENGINES THAN ANYONE.


Before the new hood and scoop. Looking gooooooooood!
Owner Joel and son Chris beside their '66 GTO. Nice T-shirts.
($15.00 to non RRE engine owners.)
Joel called five years ago and told me about his '66 GTO he wanted to hop up.
He had already bought some pistons and rods but needed everything else. He wanted a ten second, low
maintainence big torque Pontiac 455. He got it. Here's his parts. Our ported Edelbrock heads.
72 cc versions milled .050 thou. A ported Torker II intake. A Barry Grant 1050 Race Demon
removeable sleeve carb. Currently jetted for Minnesota's hot humid summers. 93/98.
Venolia pistons and Super Speed aluminum rods. C&A gapless rings. Stock crank - nitrided.
Clevite bearings and clearances set up using our tech sheet that's on the FAQ page.
Cam - Custom Comp solid roller - 265 at .050 .629 lift after lash. 112 I.L.C.
Coan Turbo 400 - Pro Tree trans brake. RRE profiled eight inch converter.
12 bolt - Strange axles - Spool - C-clip eliminator - 4:11 ratio
29.4 x 10.5 M/T slicks. Dick Miller adjustable upper control arms.
Rear chassis kit with Racing shocks front and rear.
Crager Unilite rims 8 x 14 rear - 6 x 14 front.
Five gallon fuel cell - #10 line with Barry Grant 280 fuel pump.
Ducted ram air system thru the lower headlights openings.
All steel except hood and scoop. 3500 lbs sitting on the starting line.
Leaves at 4200 rpm. Shifts at 6000. Through the traps at 6300 rpm.
No wasted money on a "stroker." No wasted money on a "long rod."
Just a smart light rotating assembly and a high velocity intake tract.
(Heads, cam, intake and carb!)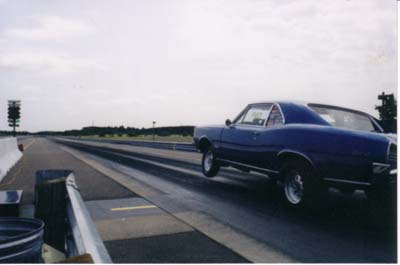 In 2001 Joel and family came to the POCI drags at Rock Falls Raceway, WI.
and had a great time. "Who's your Daddy" Papa Joel went to the finals.
And when they see this fine spread on their cool machines they'll get
me some more info so I can add captions to these pictures!