WE MAKE SERIOUS PONTIAC HORSEPOWER

AND WE KNOW MORE ABOUT BUILDING STOCK PONTIAC ENGINES THAN ANYONE.

NHRA legal - Nine Second Club
Established to recognize the accomplishments of NHRA Super Stocks
that have run in the nine second zone with a 400" traditional Pontiac engine at an NHRA Divisional race, National Open,
or an NHRA National event.

#1
The Very First.
Roy McKinney on the left did it in Gainsville. Fl at the Gator Nationals in 1997.
Ran 9.79 - a one time best ET.
They're SS/IA has all other Pontiac powered SS/IA covered by more than six tenths.
That's his son Mike on the right.
#2
John Angeles
You read all about it on the PERFORMANCE LINK.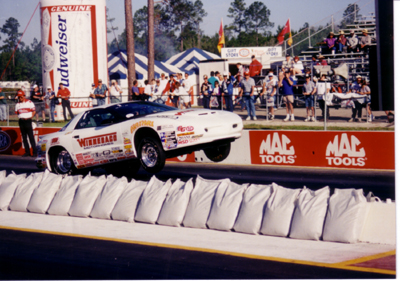 #3
Phil Montieth's Hatatri
Phil got the new car into the nines in GT/FA.
A best of 9.94 so far.
#4
5/16/2003 Englishtown - Matco Tools Supernationals
In killer sub-mine shaft sea level conditions. Greg Andersons Pro Stocker ran 207 mph!!!
Steve Smith in GT/FA
9.94 backed up with a 9.96. Congrats Steve.
#5
And of course now there's the quickest PontiacPowered NHRA Super Stocker in history as of Feb 2004 - Bruce Fulper..
9.67 at Pomona Feb, 2004. See the MAIN page for more info.