WE MAKE SERIOUS PONTIAC
HORSEPOWER!
-
AND WE KNOW MORE ABOUT BUILDING STOCK PONTIAC ENGINES THAN ANYONE
-

$6400 complete and Dyno'd.
Only $4500 down in most cases and balance due three weeks before finishing.
The economy has kicked lots of peoples butt, including mine.
It's time to pay the rent by offering the same great quality and a few different power options at a lower price.
I will build you a cast iron head 326 or 350 complete, no core needed, for $5600 for the next few weeks. Shipping NOT included. Roadrunner Trucking however is
really inexpensive compared to others I've checked lately. Approx. $240 coast to coast. Shipping costs are tied to current fuel prices.
Dual quads extra. Pics are so you can see how nice it will look.
This low budget ($6500) high compression 400 is hauling a 4600 lbs Catalina into the low 12's for nine years now.
Best head work availble - period. Which is standard procedure at RRE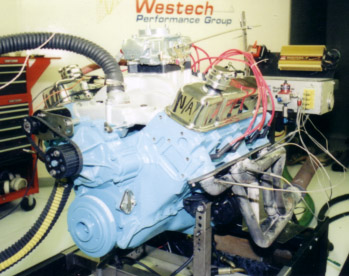 New valve covers cost extra. The $5600 engine special comes with decent used ones.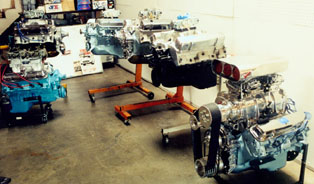 How much horsepower?
How much do you want?
It's up to the cam - so then it means how much "rump" do you want? No charge for larger cam. All custom hydraulic profiles cost the same.
No matter how small or how big.
E-mail me at IndyWinner@dslextreme.com
We'll discuss you goals and go from there. Streetability is something I understand better than any other advertising builder, so let's talk. Longevity is my foremost goal with all builds.
Parts include: New pistons, rings, custom hydrualic cam. roller tip rockers for patient customers, Q-jet cast iron intake, Fresh PROFESSIONAL rebuilt 750 Q-jet carb,
Fresh rebuilt and custom curved A.C. Delco point dist, oil pump modified, rod and main bearing clearances like all of my engines.
Otherwise stock parts are used unless you wish to buy some aftermarket parts. Call or E-mail to discuss details.
Quality - the same as all of my engines. And what you cannot get from
most other builders is this: ALL OF MY ENGINES ARE broken-in by (me) the owner/builder Bruce Fulper.
Compression will be set for 91 octane or less unless otherwise ordered.
Optional:::: I'll build a high compression cast iron head engine for the same price by using #13, #670, or
whatever big valve screw-in stud head I have in stock. (I have hundreds of heads in stock.)
Thie high compression offer is a great deal for a budget minded racer.
$5600 bucks can get you well over 400 hp and close to 500 lbs ft torque on the less expensive high compression versions.
All engines can be power dyno'd for an additional $850.
Email - IndyWinner@dslextreme.com
Don't hesitate - Talk to Bruce. It's the best Pontiac engine build available.
Thank you.