WE MAKE the most PONTIAC POWER!

AND WE KNOW MORE ABOUT BUILDING STOCK PONTIAC ENGINES THAN ANYONE.

Here I am making my first pass in the rear engined dragster. 01/24/03
NHRA requires a special license to drive one of these. I already had an NHRA license for the
Super Stocker, so I was only required to make three passes to fulfill NHRA's upgrade criteria.
The first pass must be a moderate pass in order for the observing drivers to tell the newbie can handle the car.
The second two must be within the elapsed times for the cars intended use.
In this case it must run in the eight second zone. Those ET slips are at the bottom of this page.
"What a rush."
I bought this car when I was still a nuclear mechanical inspector
at Lear Seigler in 1990. I designed the trick step headers that bolt to
either D-port or Round port heads via a set of adadpters. After I was laid off
in 1991, I began building engines to pay the bills. That grew into a full time
business. Although building Pontiacs pays the bills, I didn't have the money
to finish of the dragster the way I wanted. So the chassis hung in the shop
until five years ago when Marty Haracz who owns
Race Cars and Stuf, a chassis and fabricating shop made me an offer to finish and share driving duties.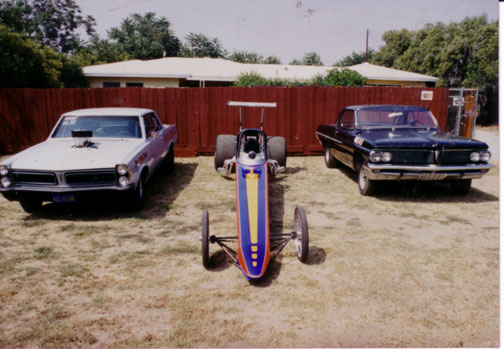 This is what the rail looked like in 1993. Sitting next to the Rock 'N' Roll GTO
and my 1962 Union Park Pontiac Super Duty Catalina. One of seven custom built
Super Dutys that had their engine built at Ray Nichols Engineering before being sent to
the customer. I sold the S.D. to the late Randy Williams to help start Rock 'N' Roll Engineering.
Marty changed the rails sheet metal a bunch. He offered to finish off the car if he could drive
it for a while. Bruce and Marty struck up a deal and five years later I had
my rail back. Marty wanted to keep it longer. (!)
I broke in the engine on the Westech dyno using gas.
It runs on alcohol now using dual Flying Toilets throttle bodies on my designed sheet metal intake.
On the flowbench this intake actually increased the airflow by nine cfm, per port, when
bolted on the head. Tests showed a solid two mph increase over a Victor.
This engine is another experiment of mine. Using a SHORT rod to promote better breathing,
it's worked very well. It's lasted for two years of Marty's abuse. With a 270's at .050 duration and 13:1 Cr it dyno'd at 738 hp through
the mufflers. Block is a 400 from a two barrel Catalina. All pre-1975 Pontiac blocks are very strong.
Properly prepped. We know how. We've seen 1000 hp without block,
crank or aluminum rod failures.
4.100 stroke and a 6.4+ rod length (exact # a secret) and 4.190 bore. 451 cubic inch.
I designed the trick exhaust adapter you see here. Makes D port to round port head swaps a cinch.
Moderate pass. 9.55 at 131 mph.
This was a rush like I've never experienced driving anyone elses cars.
The thrust is wild.

First full pass. 8.55 @ 158.10
Third and final pass. I actually tried for a decent reaction time. On a .400
tree that .488 isn't TOO bad for a guys second full run. I also decided
to tune the engine a little, leaning it down two pill sizes. Result? 8.46 at 158.49 mph.
These passes were made at the Palmdale high altitude track. Over 4500 feet this day.
Wish there was someone with another fast Pontiac to race......ho-hum....
Up + Date! 5/31/03
Took the rail out for our first competition. Quite a learning experience. I
forget to turn on the air bottle which shifts the tranny. So the first run, which was to be
a moderate run anyway, really was moderate. 11.00 at 130 mph!
I've taken off the alcohol injection I built and installed one of Barry Grants
King Demon RS models with the 995 sleeves. Not having time to dyno I
jetted the carb on the fat side. Ol' Mr Conservative. Boy was it EVER fat.
EGT readings were barely over 1000 degree's in the 5700 foot altitude.
On a well tuned run typically EGT's are in the 1300+ range. sometimes as high
as 1500 degrees depending on the combination. I thought about running the
nitrous, but not getting a decent first run made us opt for a non-nitrous day
and just try to "bracket" ho-hum "race." (I really like heads-up racing)
Second time trial netted us a too rich 8.95 at 150 mph.
First race? A borrowed battery died and the car wouldn't start.
Uug. Bought back into the "second chance" and after charging the battery
we hoped the baby would sail. Then, I thought, hell turn on the nitrous.
Put a 7.99 on the dial, and guess what?
We tested the nitrous switch which is on the carb. It engages at WOT.
Andy had installed a heavy throttle return spring. I mean h-e-a-v-y.
"How heavy was it?"
I was making passes without the throttle wide open. (All day.) The nitrous never came on
and the car went 8.90 at 150 mph again. And I got properly whomped.
Soooo, I learned a few things. I got a little quicker and slicker at
getting suited up and fired up. With a new car and a new combination
we did ok. We've been invited to run with the west coasts Super E group in
Las Vegas June 14th. Anything goes as long as you can run 7.90.
Sounds like my kind of fun. I think we're going. Stay tuned for more results.
BTW: At the Pontiac race today, we were the fastest Pontiac at the track. Again.
SADLY REALITY FORCED ME TO SELL THE RAIL AFTER THAT 18 WHEELER NEARLY KILLED
ME COMING HOME FROM iNDY IN 2004. GLAD TO BE HERE. NEXT.