WE MAKE SERIOUS PONTIAC
HORSEPOWER

AND WE KNOW MORE ABOUT BUILDING STOCK PONTIAC ENGINES THAN ANYONE.

Being recognized by NHRA in an elite group of only twelve people nationwide is well, very cool.
Who's the most fun announcing at any Pontiac drag race event? If I must say so myself, and I must, I'm am. (you asked!)
I always make the racing fun for spectators and racers alike.
Open for bookings.
My expirence as a race director/promoter gives me the knowledge to work in harmony with the
race director, track manager, safety personal, and computer operators, to ensure a smooth day of racing.
Be happy to help anyone out.
25 year memeber now.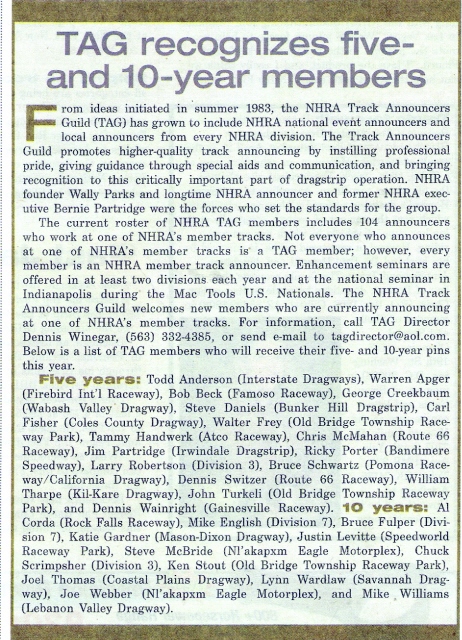 10 year member - see pics below.
Also see William Tharps name in the five year group. That's our good buddy from Kil-Kare. See him on the EVENTS page too.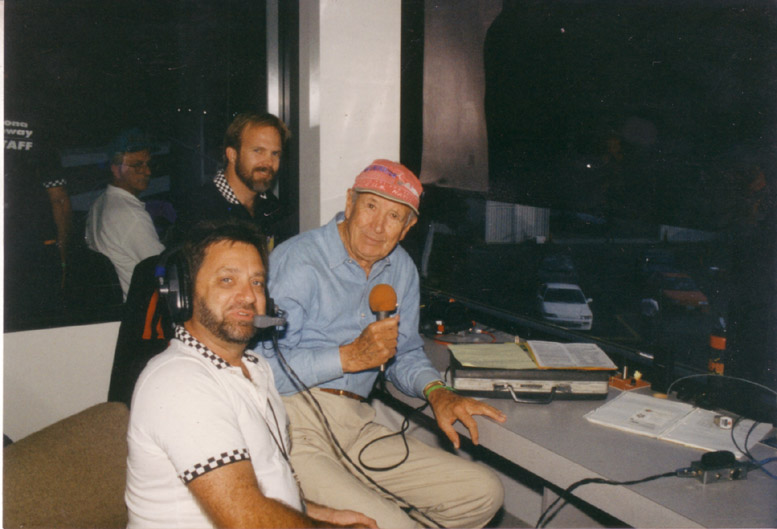 Here's one of my favortie pics. Walley Parks sitting in with me as I announce another
Street Legal Drags weekend at Pomona. Circa 1997. In the text it mentions the legenday Bernie Partridge - that's his son Jim
behind Wally that I helped to get the managers job for the Street Legal Drags.
We always had fun at Pomona.
More dart board material.. (Me, not Don)
Also, '96 or '97 when I was the featured guest announcer at the gone-glimmering Tri-Power sunday events
in Norwalk, Ohio, I intereviewed Don "The Snake" Prudhomme and presented him with a
plaque from all of you/us, thanking him for being,
"Cool enough to have a Pontiac sponsorship while driving a Top Fuel dragster."
(something like that - he had a good laugh) He IS a cool guy.
Plaque was designed by my talented and beautiful almost-wife. (!)
The head dress feathers had the names of all of the
Pontiacs models in them.
I love working with other announcers and amatuers too. So don't be afraid of losing your spot. We'll all have a ball.
Email me at Pontiac4@mindspring.com - Subject line: Announce for us.
-------------------
Where's Wally Oberman? Here we are announcing at the GTOAA drags event at Union Grove back in the '90's
Announcing resume: (partial)
Seven years at Pomona
One year full time with the NMCA
Quaker City SuperCar Show down for three years.
Announced all over the country at NHRA National and Divisional events.
Pontiac Drag Sports, Norwalk, Tiger Run, GTOAA, POCI events. Started 1989.
There's more. When I remember I'll add 'em. If you remember, please remind me.