Last Update 07-04-07
WE MAKE SERIOUS PONTIAC HORSEPOWER

AND WE KNOW MORE ABOUT BUILDING STOCK PONTIAC ENGINES THAN ANYONE.


I tried to do this - but most of these NHRA racers a re so stinkin' weird to me that I've given up -- Can't give some people FREE money AND promotioanl help.
I'm leaving up the work I've already posted - I'm proud of TRYING to help guys who ended up ungrateful to me. 07/04/07 Over and out.
For NHRA Stock Eliminator cars that have run in the ten second zone
at any NHRA National, Divisional, or National Open event.
John Schloe did it first. Back in....I'm looking for my notes...!
Be back in a day or two with more info and pics!
400 cubic inch and D-port heads. Best pass to date is 10.77 at 120.98 mph.
Do you understand? That's with a .422 total lift cam. Can YOU do that?
Larry Maxwell was the second NHRA Stocker in the nines
with a 455 combination. We'll have more info on these cars.
Stop in occasionally and see.
Don't let the dial-ins throw you. If we tell you these guys have run
tens in legal trim, they have.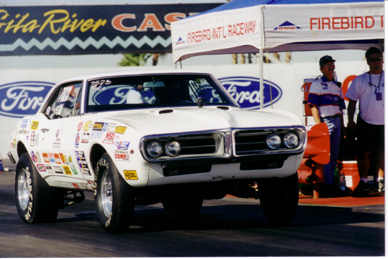 Bryan Phillips E/SA 400 1967 Firebird.
10.90's with UNported 670 castings and a .425 lift hydraulic cam.