www.PontiacEngines.com
www.PontiacPower.com
WE MAKE SERIOUS PONTIAC
HORSEPOWER
AND WE KNOW MORE ABOUT BUILDING STOCK PONTIAC ENGINES THAN ANYONE.

Blowers. They look awesome. And they're a great way to make brutal power without nitrous. We can custom profile a blower engine for looks, long life, or drag race only competition. This particular 400" engine belongs to Kevin Mack. A computer animator who won an Oscar for the opening sequence in "When Dreams May Come." He is building a '68 GTO convertible just for cruising. Seven to one compression. 87 octane. Mild 550 hp.
His engine sits patiently surrounded by various King Street monsters. Kevins car wouldn't be done for another ten months. One day Bruce gave him a call and asked if he'd like to see his engine in a knockout red Pontiac at a Pontiac car show. Trusting Bruce to be careful he said, "Sure!"
Bruce had the engine in and hooked up in two days. Ready for the So.Cal. POCI chapter car show. Everyone loved it. Kevin was drooling. Bruce was grinning, and,.........
He won a trophy! How appropriate eh? There was a great color picture in the April 2002 issue of Smoke Signals.

I just finished another blown street 455 for Jeff DiBaggio in Conneticut. It made 625 lbs ft at 4000 rpm. Yeah baby. It's a STREET cruiser engine. Not a Top Fuel contender. Keep your HP dreams in check ok? We're as serious as a grudge race. Attitude? The best type!
Jeff's monster.
Kevin Macks '68 GTO conv.
Kevin and buds cruisin' with a bad blown GTO.
Kevin called no less than three times the day he finally
got to drive his baby. And a week later called again to
tell us how thrilled he is with the engine.
He reported that she starts at the touch of the key.
Well, ....of course!
We can build them to cruise or race.
Here's James Greens' blown 400.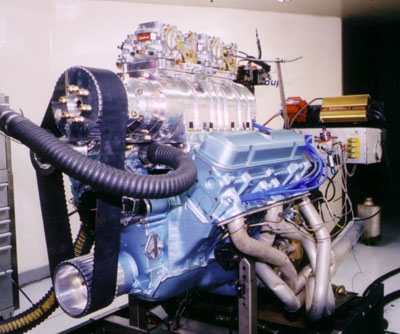 This would look good under your hood.
Price? This is our street series and can be bought for as little as $9000
complete as you see sitting here. Dyno'd, ready to install in your car.