Barry Grant is out of business but Holley
is now selling them, and we're still a dealer!! Yippie!
-
Sad as hell
RIP BG enterprises
I might buy your old Demons. Email me.
-
-
-
-
WE MAKE SERIOUS PONTIAC HORSEPOWER

AND WE KNOW MORE ABOUT BUILDING STOCK PONTIAC ENGINES THAN ANYONE.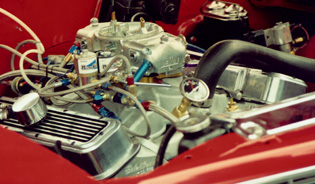 This is a 750 Mighty Demon on the famous RRE 350.
Bruce has dyno tested every carb made. The Demons always perform better.
Simple to work on. Easy to tune.
When the Speed Demons first came out Bruce tested one on
his King Street 455-108 that used a 150 shot of nitrous.
This 850 Speed Demon on a stock rod length
stock stroke 455 made 800 hp.
And a crushing 823 lbs ft. of torque at 4800 rpm.
The Demon catalog has all kinds of great information.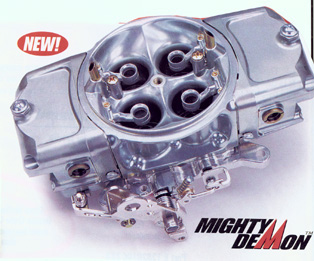 The Mighty Demon replaces expensive aftermarket race Holleys for
HALF of the price. (Yes, half.) They have adjustable air bleeds. Which Bruce will help you
understand how to tune. We have the best prices when you buy a complete
engine from us.
Look at this baby. The King Demon works killer
on NHRA Pro Stock cars and all types of other high performance engines.
Get with Bruce to help you decide which one of the many versions
will be best for you. Don't overcarb - It's the most common mistake.