WE MAKE SERIOUS PONTIAC
HORSEPOWER
AND WE KNOW MORE ABOUT BUILDING STOCK PONTIAC ENGINES THAN ANYONE.

I had the fortunate experince to spend time with Smokey Yunick on three separate occasions.
Smokey was very complimentary of my low compression engine design success.
One of those engines was in this wagon. An 8.2 Cr. 400" that ran 11.40's at 115 mph shifting at 5500 rpm. 3:90 gear.
He also shared experiences of jerks that attack successful people.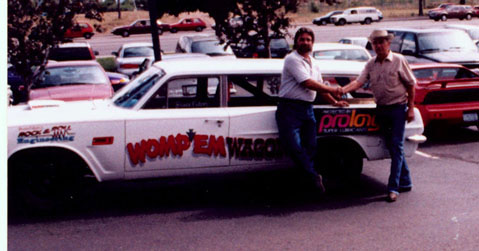 Picking Smokeys brain was priceless.
The 350 that ate the world. At the Pontiac nationals Jim Wangers gave orders to driver Dave Anderson NOT
to race their 472" stroker GeeSlowToo gto against my 350" Ventura.
When I found that out I shoe polished this message on the car.
Email from the bottom of the front page.