KERI ANGELES DROVE HER FATHERS 1969 R.A.FOUR FIREBIRD TO A RECORD SETTING 9.99 E.T. TO BECOME THE FIRST EVER N.H.R.A. SUPER STOCK 400 INCH PONTIAC INTO THE NINE SECOND ZONE. CONGRATULATIONS JOHN, MELINDA, KIM, AND KERI FOR ACHIEVING A LIFETIME GOAL TO BE THE FIRST S/S CATEGORY CAR, (NOT A G.T.,) TO GET IN THE NINES. TO PROVE IT WASN'T A FLUKE, THEY CAME BACK IN THE FIRST ROUND OF ELIMINATIONS FRIDAY MORNING TO WIN WITH ANOTHER 9.99 AND THEN, IN THE THIRD ROUND, WENT A 9.98! BRUCE ASSISTED JOHN WITH AN EXTENSIVE VALVE TESTING PROGRAM, INTAKE MANIFOLD, AND SUPPLIED OTHER PARTS.

*JOHN WANTS IT KNOWN HE HAS ALWAYS ASSEMBLED HIS OWN ENGINES.* NO ONE ELSE. NOT EVEN HIS EX-PARTNER, Pete McCarthy.

John told me his quarterpanel was worth $6000 for any interested sponsor.

In this arena of NHRA rules oriented racing respect is earned by people whos performance is measured by their results against their competition and/or professional recorded elapsed times and miles per hour and passing tech. Not by winning a bracket race, which has no engine rules.

On that note it's important to point out that Roy McKinney was the VERY first NHRA Super Stocker

running in a GT class of Super Stock with a 400 cubic inch engine to run in the nines back in 1997. Roy deserves that mention. He's one very smart NHRA racer. You may remember his 1968 Firebird in the CompCams ad almost straight up at Indy. Got to find that picture and put it up. Phil Montieths GT/FA Firebird has also dipped into the nines making the total of just three NHRA legal 400" Pontiacs to run nines at NHRA events. Click here for the official unofficial NHRA traditional 400 and 455 inch Pontiac powered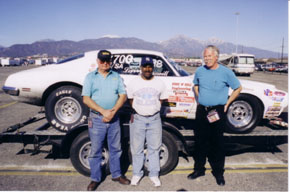 L-R Larry Maxwell - Bryan Phillips - John Schloe
for NHRA Stock Eliminator traditional powered Pontiacs.
So far the ones we know of, John Schloe, Bryan Phillips, Larry Maxwell. If you
know of any others tell us. Make sure you have proof. There's no screwing around here.
Do you know anyone that belongs here? Give us a shout.
Who is this unmasked man. And how did he make his NHRA legal Q/SA 301 Turbo so fast?
Records in P and Q Stock automatic.
National event winner.
Low qualifier a BUNCH of times.
301 turbo - s-t-o-c-k - NHRA legal and a Low Qualifier.
That means he went further under his index than everyone else that day.
Now that I have your attention - come back in a few days when more info about this
teriffic combination will be revealed. (Terrifically simple the owner will tell you.)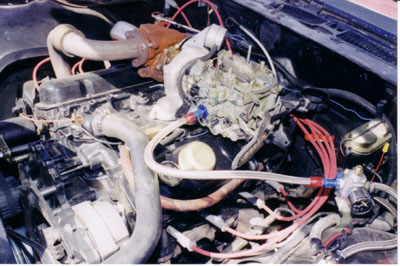 Neil built the the car and engine. We put it up here just cause
he's a sharp cat and we repect what he's accomplished.
Ok, here's some specs. At Tucson Arizona Neil went 1.51 under his index
to capture the top qualifying spot that day. That factors to
a 12.55 @ 104 + mph in Q/SA !! Yeah!!!!!
At Vegas in 2001 the car went 1.46 under which factors to a
12.28 at 107+ mph in P/SA Whooo-whee!!!!
That's using fifteen pounds of boost, 4:56 gears at 3850 lbs.